Frequently Asked Questions
What's the Incentive to be a Host?
---
Interestingly, we often find that the host enjoys the exchange as much (if not, more) than their guest. Having spoken to our hosts, this largely comes from the fulfilment, sense of self-worth and pride of showing a travelling supporter their 'local' area and often making a friend for life, not just for the game. Try it and see! The other benefits to hosting a travelling fan are that the platform works on a points basis so any PASA points that you earn can be used to search across our network of hosts for your next away trip and won't have to pay the small administration fee.
---
How can I be Sure That My Guest or Host is Safe? ​
---
See our 'Your Safety' page for a full, detailed explanation of our policies and procedures. In summary, unlike other peer-to-peer platforms, before becoming a member, each user must have spoken to one of our team over the phone and given assurances that s/he is of sane mind and has suffici
ent knowledge about their team, club or city to be a genuine supporter. All prospective members are then sent a postcard to verify that they have a fixed address and eliminating any NFA members. Finally, we do not match members using algorithms or robots, rather, we personally manage members who we've spoken to with other like-minded members with conscience, care and consideration. Once matched, you will be able to speak directly to your host/guest and we advise that you connect before meeting in person. If you are still unsure, we recommend that you meet in a public, mutually convenient location such as a coffee shop or train station to mitigate any risks. Finally, we pro-actively approach all hosts and guests to collect feedback after every hosting occasion to highlight any issues and to improve the reliability and integrity of our members. By and large, as you know yourself, the vast majority of sports fans are friendly, outgoing and well-mannered individuals who are culturally appropriated and enjoy meeting new people and that's why we set up Play Away, Stay Away to help prove this and change the perception of sports fans everywhere.
---
Don't Rival Fans Hate Each Other?
---
If you go to sports games looking for trouble, then quite frankly, PASA isn't for you and there's the X button, right there, top right. If, like the overwhelming majority of sports fans, you go for the atmosphere, the sense of togetherness and the sporting drama and you don't hate your 'opposition', then we could be for you. In contrast to what a lot of media would have you believe, we've seen plenty of examples of the togetherness and bond formed between fans when rivalry is cast aside, such as the successful #bedforawayfans and 'Adopt a Lion' campaigns, both great examples of solidarity and togetherness between opposition fans. And whilst we can't guarantee that we'll get every Man United supporter to happily welcome a travelling Liverpool fan into their home (it has been done, trust us), we know that in general, we have much more that unites us than divides us. See the video below and our 'News' page for more inspiring and uplifting examples of the Play Away, Stay Away unity in practice.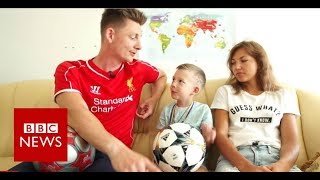 ---
What Happens if There Are No Hosts Available for my Game?
---
Unfortunately, whilst we're still in the early days of our growth, we can't guarantee that we'll be able to find a host for your targeted match. However, if we have enough notice, we will purposefully search for one for you and let you know so please do let us know where you plan to go. We're constantly investing in marketing our platform and spreading the message about PASA across supporter groups (and this is where you can help us) to grow our database of potential hosts so that we can improve the reliability and reach of our network of hosts.
---
How Close do I Need to Live to the Stadium?
---
We d
o not place a limit or control on your proximity to a major sporting venue, especially if you are willing to assist your visitor in transport but we do recommend that you write your closest/convenient stadiums on your profile page to help visiting fans plan their trips. In general, the closer, the better!
---
Why is There an Administration Fee?
---
Play Away, Stay Away is designed by fans and built for fans to help reduce the cost of following their team away and enabling more supporters to attend more games, more often. We would love to make it completely free but we don't want to bombard you with endless advertising or sell your data but we do need a revenue stream to maintain, build and grow our platform. After long deliberation and many late arguments at PASAHQ, we thought the best compromise was to place an administration fee on every confirmed hosting that's still less than the price of a pint and considerably less than the £100+ you would have otherwise spent on a hotel, hostel or AirBnB.
---
What Happens if There's a Safety Issue?
---
Please see the safety question above for our proactive, personal approach to hep you to avoid safety issues. We treat matters of your safety with the utmost importance and you can see our full 'Your Safety' for full details and tips/recommendations. Naturally, we treat your safety with the utmost of importance and it's integral to allowing our platform to flourish. If you feel uncomfortable, please remember that you are under no onbligation to host or stay with a fellow member and other arrangements can be found. Please contact our CEO on 07720 904 782 and we will work with you to find a solution. If a member's behaviour is threatening or violent, remember and please do not hesitate, to contact the Police on 999. Any member accused or suspected of threatening and/or abusive and aggresive behaviour will be temporarily suspended pending a full and thorough review of the circumstances and we have a zero-tolerance policy to cases of this sort if proven.
---
How Does Play Away, Stay Away Make Money?
---
We're still in the early days of our development and growth as a business and as a platform. The idea is that once we have established enough of a network of hosts, each member will be given points that they are able to use on a stay with another member.
There will be enough points for the members first stay to be completely free and if you host someone, you will gain more points that can be used when you want to use the platform as a travelling fan. After your first stay, if you don't have enough points, you will be charged an administration fee of £5 for your future stays. When the hotel might be £125 and an AirBnB £75, that's what we like to call a bargain! This fee won't go to your host but will be used to help us to improve our service, expand our network and help more supporters. Don't want to pay a £5 fee every time you book through Play Away, Stay Away? That's fine, we will also introduce a Season Ticket for £25 that gives you unlimited stays for a whole year.
---
---